Know our product
The SLIDE N SCAN captures and has advanced features that software enhances, resizes & converts photos via easy 'scan' button. No complex screens or settings! Easy options let you choose film type, adjust color/brightness & assign date/time.
The scanner delivers crisp, clear, balanced photographs. It is the perfect resolution for color or B&W film negatives and slides.
The SLIDE N SCAN features large, crystal-clear screen with wide viewing angle photos. Or use The SLIDE N SCAN as a Photo Frame by Positioning the scanner on a desk or coffee table and initiate 'Gallery mode' for use as an electronic picture frame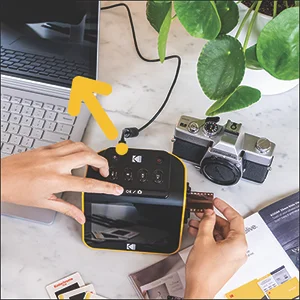 SAVE PHOTOS IN 14 OR 22 MEGAPIXELS AND EASILY TRANSFER TO PC
The SLIDE N SCAN has a 14MP image sensor and certain films allow you to enhance the resolution from 14 to 22 megapixels. View, edit & convert your old color & B&W negatives [135, 110, 126mm] & 50mm Slides [135, 110, 126mm] to digital files & save directly to SD card and easily transfer the images to a computer VIA the included USB Cable.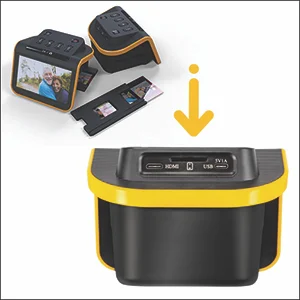 SUPER CHIC. UBER COMPATIBLE
The scanner handles all your old slides & negatives, supports SD or SDHC cards [Up to 32GB] & connects to any type-C USB-enabled computer. It has a gorgeous design and blends seamlessly with your home décor.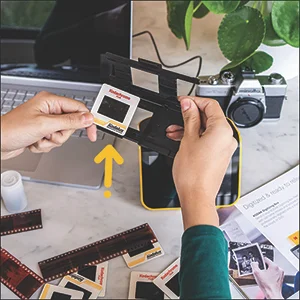 CONVENIENT EASY-LOAD FILM INSERTS
The SLIDE N SCAN has a quick-feeding tray technology that allows for continuous loading action, making scanning fast & simple! It includes 50mm slide holder, adapters for 135, 110 & 126 films, cleaning brush, USB & HDMI Cables.